Eclo has raised 4.7 millions euros to install a high-tech 4,200 sqm factory in Villers-le-Bouillet in the province of Liège at the beginning of 2023. This will position Eclo as a key player in the exotic mushroom industry in Europe, with an annual production of 7,000 tons of mushroom substrate from recycled organic waste by 2026. Participants in the fundraising include Noshaq, Investsud Bois, GoGreen Capital and private investors. An operational support on this funding was provided by Ubiz.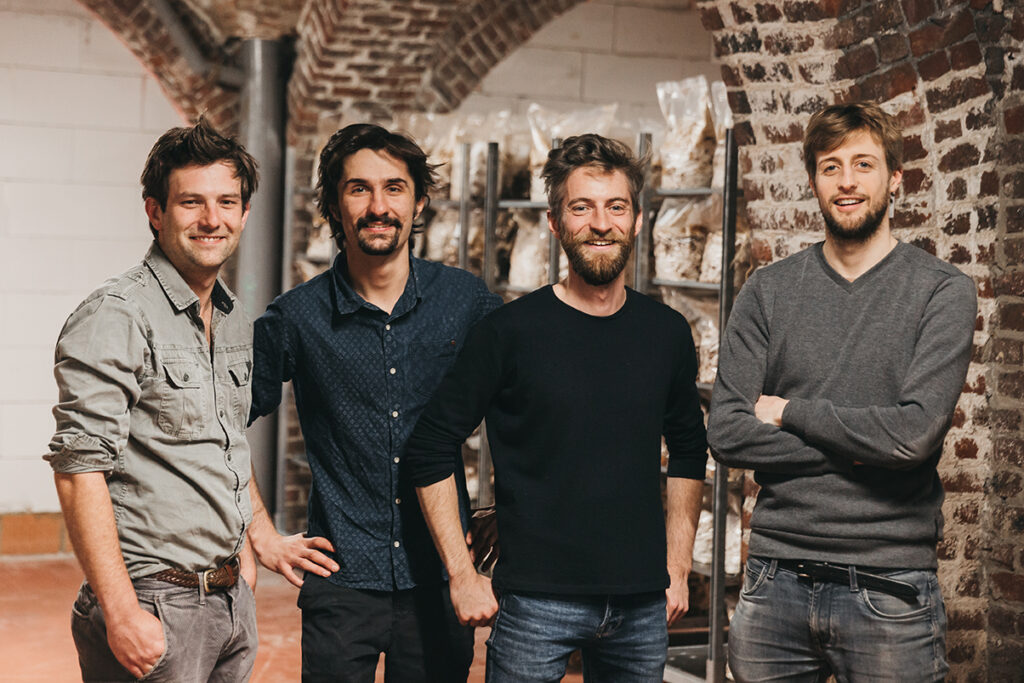 Eclo, a local, organic & circular initiative!
Since 2016, Eclo has been working to develop recipes that replace grains in exotic mushroom substrates – generally made from a wood base, grains, water and mycelium – with organic waste from breweries and industrial bakeries. Located in the Cureghem Cellars in Brussels, the first professional facilities produced significant and encouraging results, based on a short supply-chain strategy for raw materials, through partnerships with local businesses: Cantillon Brewery for spent beer grain, the Colruyt Group and Bon Pain for organic bread. 
In 2021, the facilities in Anderlecht enabled Eclo to produce 330 tons of substrate while recycling 23 tons of brewery and bread waste. This production will increase with the closing of a Series A financing round of 4.7 millions euros, in which Noshaq, Investsud Bois, GoGreen Capital and private investors participated for the installation of a high-tech 4,200 sqm factory in Villers-le-Bouillet in the province of Liège in early 2023.
The purpose of this fundraising is also to position Eclo as a European leader in mushroom substrates in Europe thanks to an increased production, which will supply the French, Dutch, Swiss and German markets, where the consumption of exotic mushrooms is growing every year.
A high-tech factory in the province of Liège.
From October 2022, the company will start moving its substrate production out of the Cureghem Cellars and installing it in Villers-le-Bouillet. The relocation of this part of the operation stems from a significant need for production space. The other part of the operation, fresh mushroom harvesting and the production of microgreens and aromatic herbs, will continue to be carried out in the urban farm in Brussels.
After a test phase, marketing of the substrates will be able to start from early summer 2023. The first phase of production will produce up to 3,600 tons of substrate per year in 2024. In the second phase, around 7,000 tons of substrate will come out of the factory each year from 2026.
As substrate production is very susceptible to contamination, the factory will be equipped with a high-tech automated production line for the most critical parts of the process. This is to avoid handling, which could increase the risk of contamination of the substrate. The factory will be powered by 1,500 sqm of photovoltaic panels. These infrastructures should generate 20 more new jobs by 2026, in addition to the 12 people currently employed for its Brussels operation.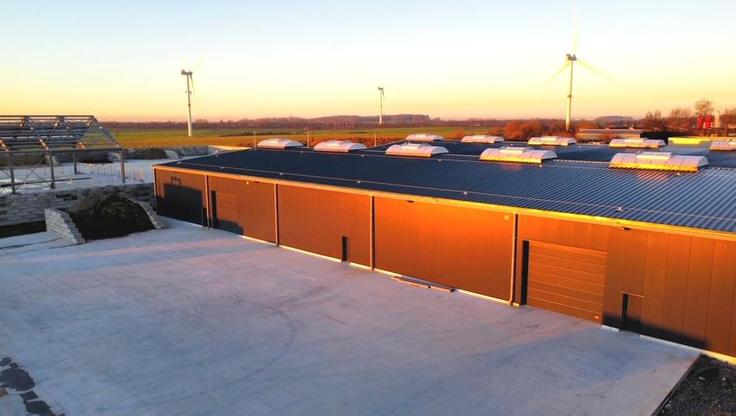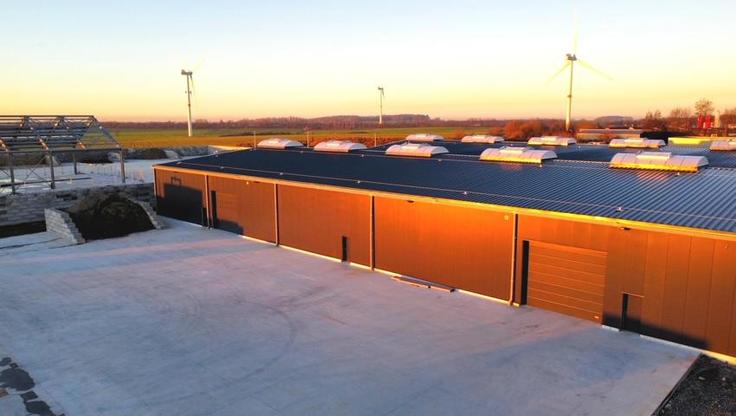 Becoming a European leader.
Exotic mushroom substrates are usually made from a wood base, grain, water and mycelium. These materials are mixed together and placed in conditions that are favourable to the growth of mycelium. After a few months, the substrate is completely colonised by mycelium, and it is then ready to fruit its mushrooms.
It is this completely colonised substrate that will be marketed when it leaves the factory, where several varieties will be produced, including shiitake, eryngii, nameko, maitake and pompom. The aim is to position Eclo as a major player in mushroom substrates in Europe. These substrates will be targeted at mushroom producers in the Belgian, French, Dutch and German markets.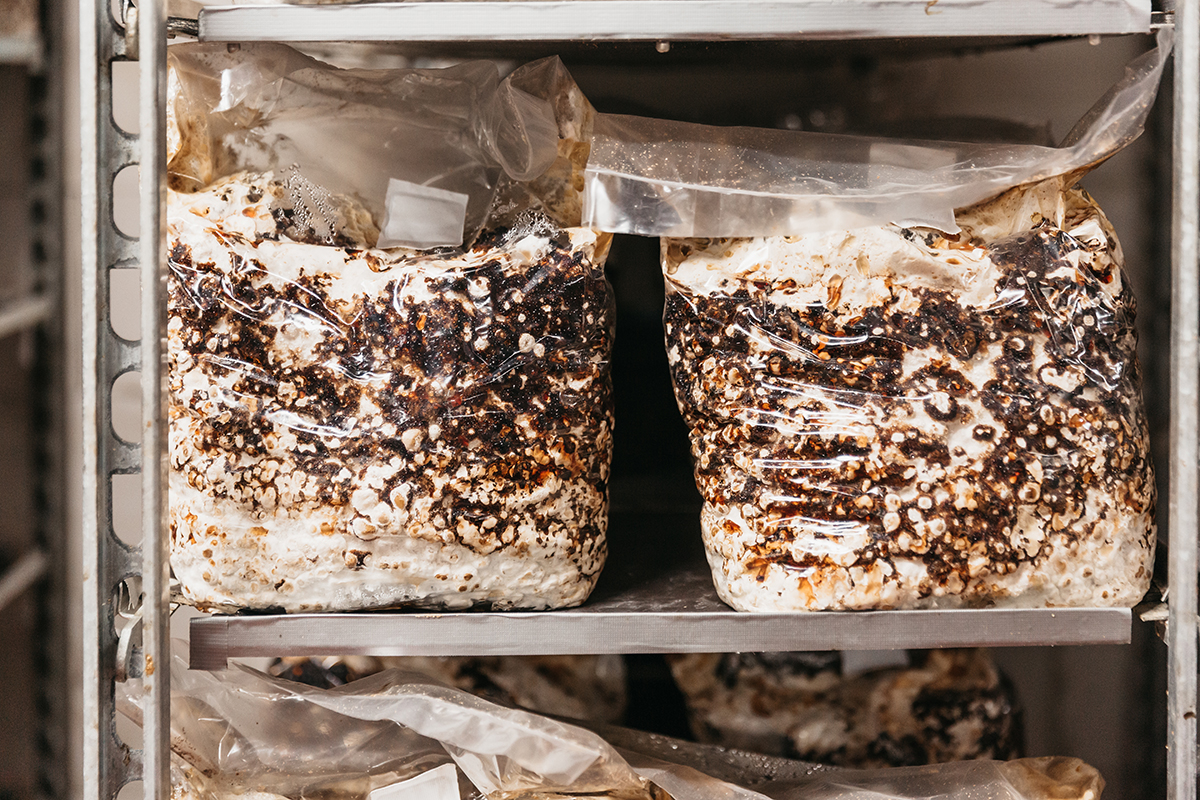 An in situ expansion of production, together with an increase in Eclo's organic waste recycling capacity, i.e., 7,000 tons of substrate for 700 tons of spent beer grain or bread waste recycled from 2026.
Spent beer grain and bread waste recycled annually: 360 tons in phase 1 (2024) and 700 tons in phase 2 (2026).
Sawdust (sawmill residue) recycled annually: 960 tons in phase 1 (2024) and 1680 tons in phase 2 (2026).
To meet these projections, the company is aiming to supplement its supply of organic spent beer grain and organic bread waste, in addition to that supplied by existing partners, and the arrival of Investsud Bois funds in the capital will, among other things, strengthen the supply of Belgian sawdust. Mycelium will continue to come from the company Mycelia, a long-standing partner of Eclo, located in Ghent.
About Eclo
Eclo, formerly known as Le Champignon de Bruxelles (The Brussels Mushroom), is an urban farm that produces exotic mushrooms, microgreens and aromatic baby herbs. Founded in 2014, it currently operates on 3,000 m² of the Cureghem Cellars in Brussels city centre, making it the largest underground farm in Belgium. What makes it unique? Using waste materials to produce exotic mushrooms! The company recycles spent beer grain from Cantillon Brewery, a by-product of organic beer, and organic bread waste from the Colruyt Group and Bon Pain. It also produces microgreens and aromatic baby herbs on the same site with a vertical farm. In 2021, the company produced around 72 tons of fresh mushrooms, 330 tons of mushroom substrate, 104,000 units of microgreens and baby herbs and recycled 23 tons of organic waste. Eclo works with the key players in organic distribution in Belgium, more than 300 organic shops and nearly 160 local restaurants.

www.eclo.farm
About Noshaq
Noshaq is an investment fund and project developer with a portfolio of 474 companies and 700 million euros of share capital. Noshaq is the reference financial partner for the creation and development of SMEs in the Liège region. Over the years, Noshaq has developed a variety of financing vehicles, which are in line with market needs and trends, as well as its strategy. All services offered by Noshaq are always designed according to the needs and requirements of the client investor. The goal is to have a lever effect on the development of the business at all times.

www.noshaq.be
About Investsud Bois
A fund specifically dedicated to the wood sector, created on the initiative of the Walloon Government and Investsud, the purpose of Investsud Bois is to provide financing for industrial activities such as forestry, sawmilling, carpentry, trading, wood construction and the reclamation of products related to the wood industry. Investsud Bois's mission is to strengthen the equity capital and promote the growth of companies in the wood sector, and it also contributes to new technological innovations linked to this sector. Since its inception, Investsud Bois has acquired an in-depth knowledge of the sector, its stakeholders, business model, trends and techniques, which it shares with its partners and clients.

www.investsud.be
About GoGreen Capital
GoGreen Capital is a Belgian impact-oriented venture capital company, investing primarily in start-up companies with a positive social and environmental impact.

www.gogreencapital.be