Make the sourdough crackers: preheat the oven to 175°C. Mix the chickpea flour with the 'throw' sourdough, 3 tbsp. olive oil, white and black sesame seeds, split flax seeds, nutritional yeast, black pepper and fine sea salt in a bowl until smooth. Divide the dough in two and place in the fridge for 30 minutes. Sprinkle a rolling pin and a sheet of baking paper with flour. Roll out the dough evenly and thinly into 2 large rectangles. Brush with a thin layer of olive oil and prick with a fork. Cut into pieces if necessary. Sprinkle with fleur de sel. Bake for 20 to 25 minutes or until the crackers are golden brown.

Prepare the miso cream cheese: mix the vegan cream cheese with the miso in a bowl. Season with salt and pepper.

Melt the vegan butter in a nonstick skillet. Sauté the garlic until translucent. Brown the mushrooms over high heat. Deglaze with soy sauce. Season with salt and pepper.

Spread the sourdough crackers with the miso cheese spread. Scatter the sautéed mushrooms on top. Garnish with a little watercress and sprinkle with white sesame seeds.

Delicious in combination with Cockburn's Fine Tawny.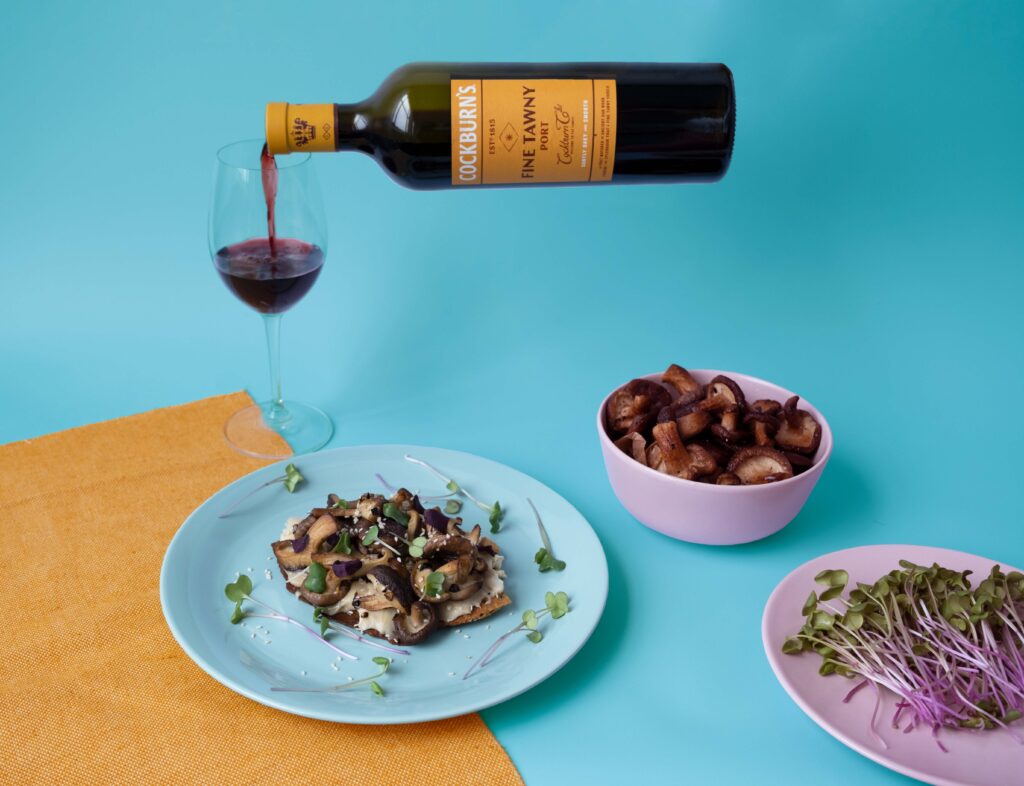 Cockburn's Port
WHAT A TIME TO BE A PORT
It's time to take port off its pedestal.
No more standing on ceremony, we're here to start some new traditions.
So forget formality. There's fun to be had.
Long summer days outdoors. We'll drink to that.
Cosy winter nights in. Pass the port in any direction.
Distinctive, delicious and just special enough, this is port's time.
And what a time it is.
Alice Bown
Personality, enthusiasm and professionalism brought to the table !
Simply stylish, always accurate and extremely efficient.
An individual approach is key to acquire the very best results and flavours for your story.
For more than 10 years now we express expertise in press and PR for wine, dine and divine brands in both local and international contexts.
Always looking for what's fresh and new. Alice Bown. Yours flavourly. Absolutely.